…Am I done formally reviewing the game? I'm not giving it a score, because I'm not a gaming journalist.
Let's just say I enjoyed playing Ace Combat: Assault Horizon. There are a lot of things I don't like about it though, and it's really disappointing to see that people perceive it to be a far worse game than it actually is.
CRA is not necessarily an unwelcome addition to the Ace Combat series–however, it could have been implemented far better, as could the counter maneuver system. These aren't things I particularly hate, but it would be nice if one could actually perform Cobras and pursue enemies at point blank range themselves, rather than having some sort of computer guidance to aid the player.
I liked the cheesiness of the Ace Combat series–it's ridiculous and stupid, and the anti-war themes are completely contradictory and hypocritical in a game about fighter jets and warfare, but that's exactly what I liked about Ace Combat.
The music is awesome. If only the storyline matched this awesomeness.
Multiplayer is a massive improvement over Ace Combat 6. Too bad virtually no one plays online.
I like the idea that you play a non-silent protagonist in the form of William Bishop, but he is no Christopher Blair. Maybe Project Aces should have taken notes from Wing Commander III and IV instead of Call of Duty.
Sorry Markov, but you are no Solo Wing Pixy. Even Milosz Sulejmani was a more compelling villain than you.
To be fair though, everything that is wrong with Assault Horizon is our own damn fault–our, as Ace Combat fans, own criticism of the Ace Combat series' flavour is exactly why we got a game like this–devoid of what defined the Ace Combat series beyond a mere shadow of fun gameplay. In all honesty, Project Aces should have just focused on making a game for one crowd, and expanding on what makes Ace Combat a great and distinctive videogame from say, Tom Clancy's HAWX, while adding improvements of their own to liven up the series. It's too bad that may not happen–from what I've heard this may be pretty much be the final game in the series.
It is difficult to not compare Sir Wilfrid Laurier's sunny way with the compromise attempted with Namco Bandai's Ace Combat: Assault Horizon. In the case of the former, Laurier sought to compromise in order to appease both sides of the political spectrum, as seen in his solution to the Manitoba Schools Question and his decision to send a limited volunteer force during the Second Boer War–the end results, especially of the latter, had left many of Laurier's supporters disappointed, factors that would lead to his defeat to his successor, the conservative Robert Borden. In the case of the latter, Assault Horizon is an arcade flight action game that sought to compromise as well–this time, by implementing new game features and following a remarkably different design principle from traditional Ace Combat and flight simulation in an attempt to appease fans of mainstream first person shooters such as the likes of Call of Duty–all while attempting to maintain its appeal to fans of the franchise and of flight simulations in general. And, much like Laurier's sunny way, Assault Horizon has failed in this regard as well–the mainstream gamer dismisses this game as a shoddy attempt to renew their interest in a dying genre, and fans of the Ace Combat series have also dismissed it as a shallow, watered down and overall disappointing title. Assault Horizon is, by no means, a terrible game, however. But while it is an interesting attempt to freshen up what is considered a stagnant franchise, it is clear that it has attempted to appeal to two markets at once with spectacular failure.
Ace Combat is not well known for strong storytelling–however, its stories, especially from Ace Combat 04 onwards, (it should be noted that Ace Combat 3: Electrosphere was the first game to introduce a storyline, and is arguably the most detailed of the lot) have been known for superlative narratives set in an alternate reality world, Strangereal, and exploring contradictory anti-war themes ranging from the meaninglessness of political boundaries to the horrors of warfare. These narratives, while highly criticized even among fans, was the original charm of the Ace Combat series, and is unfortunately not present in Assault Horizon–scrapped in favour of a real world setting, with a story written by military author Jim Defelice. In Assault Horizon, you (primarily) play Colonel William Bishop, the commander of NATO's 108th Task Force, as they hunt down a rebel-made superweapon known as Trinity. The rebels are backed by a freelance Russian mercenary, Andrei Markov, and a skilled ace pilot with a seething hatred for Americans. This premise, unfortunately, has little support to set it apart from the storyline of a B-rated Hollywood film–there is very little exploration of any of the characters, and the only interesting development by the end of the game is, by far, Markov's motivation for playing the role of Bishop's arch-nemesis. The story is told through motion acted cutscenes, and also from the perspective of three additional characters that you play as over the course of the story. The story cutscenes are not a particularly immense improvement over past games–an attempt at detailed storytelling actually peaked at Ace Combat 5: The Unsung War, where the story was told from the perspective of the pilots of your squadron on the ground. In comparison, Assault Horizon is not much different, although it does add some slight improvements over Ace Combat 5′s cutscenes by allowing you to view limited areas of the bases that your characters will explore.
There are about sixteen to seventeen missions in total, predominantly fighter jet missions flown by William Bishop. As with all Ace Combat games, these missions revolve around completing mission objectives while destroying enemy aircraft and ground targets in droves. New to Assault Horizon, however, are missions flown in a helicopter, in a bomber, a gunship, or even as the door gunner on a utility helicopter–all as different main characters who work with Bishop. While these missions are few and far between, they are undoubtedly a major subject of criticism in a game primarily about fighter jets. While there are only two helicopter missions, there are no more than two attack choppers available, and the helicopter flight model is completely non-existent. Furthermore, the door gunner and gunship missions are the least fun of the missions in the game. Furthermore, omitted from Assault Horizon entirely are other staples associated with the Ace Combat series–namely, tunnel missions, and duels with giant, hulking anime-esque science fiction fortresses with advanced laser weaponry far beyond that of a real life fighter jet. These changes only leave the mainstream gamer comparing Assault Horizon to the Call of Duty series, while the Ace Combat fan is angered that attention is not only being drawn away from the jets, but that many of the essentials that establish the charm of the Ace Combat series have been stripped away in favour of mainstream Hollywood-esque appeal.
Perhaps the most controversial aspect of Assault Horizon is its new game mechanic, the Close Range Assault system. CRA is the definitive attempt by Project Aces to appeal to the mainstream gamer while maintaining a fresh look on Ace Combat for its fans, by introducing a pseudo on-rails system that allows the player to tail an aircraft, perform maneuvers to evade pursuing craft, and to ease the difficulty of air-to-ground assaults. To "force" players into CRA, missile effectiveness has been toned down by a large amount, limiting the effectiveness of combat outside of CRA. Furthermore, sometimes CRA is forced completely on rails, completely scripted and forced on a specific flight path–this occurs frequently at the beginning of the game, leaving a terrible first impression on the typical Ace Combat fan, but levels off by the later half of the game, with such sections few and far between, if ever. The purpose of this system is to appeal to the mainstream gamer by enticing them with the exhilaration of steel carnage, while at the same time appealing to the Ace Combat fans by demolishing a critical problem with the competitive multiplayer of Ace Combat 6: Fires of Liberation–missile spamming. Unfortunately, it appeals to neither crowd. The mainstream gamer will never see the appeal behind the excitement of dogfighting, and the Ace Combat fan is outraged by what is perceived as a complete loss of user control, the end result of which is what is perceived to be a very shallow, watered down version of Ace Combat. This problem is also exacerbated by the fact that, although the original control scheme is present in Assault Horizon, it is not obviously there as it was in previous titles (Every game from Ace Combat 04 onward provided the option for the player to choose their preferred control scheme before starting the game). As a result, countless players are seemingly forced to work with the Optimum control scheme, an arcade-like control scheme designed for players completely unfamiliar with proper flight control.
And with all these changes, it is disappointing to see that absolutely no merit is recognized within Ace Combat: Assault Horizon. The flight model, on Original controls, is the same as it always has been–lift forces will act on a plane, causing adverse yaw if an aircraft is left on a large angle, or even pulling them downwards if inverted–similar to a real aircraft. At low airspeeds, the plane will stall and nose dive, forcing the pilot to regain control by increasing airspeed. Dogfights can be dragged to as high as 30,000 feet, or can take place at low altitudes. Outside of CRA's DFM mode, dogfights still retain the dynamic nature that they have always had since the PS2 era, with DFM implemented as an additional dogfighting mechanic. Engaging in CRA is not always mandatory to win, and in fact choosing to engage only in DFM will only put the player at an immense disadvantage, especially against more skilled enemies whom will take any chance to ambush an unsuspecting pilot, with or without the use of the dogfight mode. In essence, the arcadelike physics flight model of Ace Combat remains intact, as does the ability to engage in combat with enemies outside of DFM. Much of the dynamic, free-flowing nature of arcadelike dogfighting is taken away by the Optimum control scheme, which exists to lessen the workload on the player and make flying easier–however, because of the illusion that you cannot change the control scheme, it is no wonder that the game can be considered shallow by all expectations, and it is rather disappointing to see this as such.
And while the storyline is a huge disappointment considering it was written by a bestselling military author, the presentation is still superb. While earlier stated that cutscenes are not a remarkably large improvement over Ace Combat 5: The Unsung War, they are still visually impressive–the characters are motion captured, and the voice acting is far less melodramatic and cheesy than the acting in previous Ace Combat games. Added to Assault Horizon is the ability to look around during sections of cutscenes, delivering partially some level of interaction and immersion. The level of graphical detail is impressive as always–while terrain is still blurry as ever at sea level, it is still an impressive sight especially at higher altitudes. Aircraft have fully functioning control plates and weapons bays, and even working cockpit gauges–in fact, the cockpits are especially convincing, virtually matching those of the real thing, down to even the voice of the computer–the Mitsubishi F-2 will have a Japanese computer voice, Russian Sukhois will have a Russian voice, and so forth. But perhaps the best part about Assault Horizon's presentation, however, is the soundtrack. Composed by the same team that composed music for earlier games in the series in addition to Metal Gear Solid composer Norihiko Hibino, Assault Horizon's music is by far some of the best music in the series.
One of the biggest improvements in Assault Horizon over Ace Combat 6: Fires of Liberation is its online mode. There are several different game modes, ranging from Capital Conquest to Deathmatch. The rules of the game can be set accordingly, down to how the scoring system is handled, what aircraft is allowed, and so forth. Incentive to fly less potent aircraft than the most modern, advanced stealth fighters is the reduced respawn time–and if enabled, a scoring bonus that rewards the player for shooting down more powerful aircraft, a scoring system included from Ace Combat 6. New to Assault Horizon are Call of Duty-esque "perks" that allows one to add additional abilities to their aircraft, including improved maneueverability or additional ammunition. These can be turned off by the host, but add a degree of customization on the player's end. Another welcome addition is customizable colour schemes, allowing one to customize their aircraft and even the colour of their missile trail based on a reasonably large palette. Lastly, the addition of CRA in gameplay completely changes the playing field of Assault Horizon multiplayer, for the better. Gone is the need to brainlessly fire QAAMs (generally considered the best all-around special weapon) into a thick furball–because of the reduced effectiveness of missiles and the implementation of CRA, more skill is required to actually shoot human pilots down online. All of these new additions are additions which should have been implemented in Ace Combat 6, the first Ace Combat game to even support online multiplayer. Unfortunately, practically no one plays online, and at this point it's very obvious why.
Ace Combat: Assault Horizon is by no means a terrible game. However, in its attempts to take risks and experiment with new features, it also attempts to appeal to two crowds at once, with disappointingly spectacular failure. That is not to say that the Ace Combat series has taken a large turn for the worse–while many of the staples of the Ace Combat series remain intact, others have been stripped away in favour of mainstream components that have failed to appeal to both the mainstream gamer and the Ace Combat fan. Project Aces would have been better off developing a game designed specifically for one crowd–namely, the Ace Combat crowd, while adding and improving upon what makes the Ace Combat series a unique arcade flight combat series.
Hurr I have not blogged in a long time. This is a very late report, too.
I'm not going to write an extensive report, just that I was only there to hang out with friends and take photos, and I'm not a very good photographer.
Short blog post. I will post moar when I feel like it.

If you insist on knowing what's happening:
I am redoing the pilot chapter for my webcomic, so I may remove the first two pages once it's done and ready to upload.
I mostly update on twitter and deviantART, sorry. Haven't updated the gallery on this site in ages.
I have not updated my blog primarily because I'm lazy. That and I don't really have any large magazine-esque articles to upload, i.e. game reviews, etc..

Comments will require approval for now until I deal with the spam bots that invaded the blog during Christmas.

You may notice there is a new banner. Unfortunately that doesn't make the site look any prettier than it did before. I am planning on rehauling the blog later on so that the design looks a bit more professional than it does now.
What games would I suggest for someone trying to introduce themselves to videogames?
Platforms
Different videogames are on different platforms. The reason for this is, simply put, brand name–certain consoles are associated with particular companies, and particular titles are exclusive to particular platforms. I would base my judgement on what games I do want to play.
Computer
In the 90s, computer games were, for a time, the most popular games, with good reason–game consoles at the time were still extremely limited in hardware and technical capability, compared to PC games. Today, there are a lot of problems with PC gaming–Draconian DRM solutions can make gaming rather tedious, system requirements can vary depending on the game, and can be extremely high for the average consumer. Operating System may be an issue, too–the majority of games are made for Windows, although some titles are supported by Mac OS X and Linux.
That isn't to say, however, that computer games should be avoided. There are still plenty of high profile titles on the PC, (Team Fortress 2, the upcoming StarCraft 2, etc.) and the PC is a better choice for niche games, such as aircraft and racing simulators, which are a rarity on other platforms.
DS
A portable gaming device by Nintendo which relies on a dual screen (hence DS), with one screen that supports touch sensitivity. It is cheaper than the PSP, and has a number of innovative titles (i.e. Trauma Center, Nintendogs) that you most likely won't find on any other console. However, the DS, along with the Wii, also has a hefty amount of shovelware.
PlayStation 3
The main rival of the XBox 360. IIRC, the PS3 holds a higher user base in Japan over the 360. While mostly similar to the 360 in terms of hardware, the PS3 has the added advantage of a BluRay drive, the Cell Processor (which has yet to be used to a great extent by any game) and the option of a third party hard drive. (The last option is possible on the 360 as well, but not officially supported or endorsed) Additionally, the PS3 has better support for third party controllers and connectivity with the PSP. It also relies on the PlayStation Network as a means of online gaming and as a digital delivery service, which, unlike XBL, is free. However, online gaming performance is not on par with XBL.
PlayStation Portable
To say that Capcom understand multiplayer would be something of an understatement: their Monster Hunter series is (probably) responsible for 16% of Japan's GDP, though its decidedly Eastern flavour – and fiddly controls – have yet to catch on in the West.
(Martin Gaston)
Although this quote is out of context (it is meant to be a hands-on review of the upcoming Lost Planet 2), it pretty much summarizes what is particularly notable about the PSP. The PlayStation Portable is the Nintendo DS's main rival in handheld consoles. While not as innovative as the DS (It does not have a touchscreen) its main advantage over the DS is titles such as Monster Hunter, as well as upcoming PSP titles such as Metal Gear Solid: Peace Walker–which greatly take advantage of social networks and parties on the fly. It is more pricey than the DS, however.
Wii
The distinctive feature of the Nintendo Wii over any other console is its motion-based Wiimote, (now replicated by Sony's PlayStation Move controllers) which allows the player to exert him/herself physically in order to perform in-game actions. The Wii was initially more popular than the 360 or the PS3–however, that popularity is beginning to wane. The Wii has online connectivity, similar to the 360 and PS3; however, its connectivity is limited in comparison. As a home console, the third-party game lineup of the Wii is also generally inferior to what is available on either the PS3 or 360–there are probably only a handful of noteworthy third-party Wii titles, the rest being shovelware.
XBox 360
The most popular console in North America, there is a larger user base in American gamers than with any other console. The 360′s popularity primarily stems from best-selling high profile exclusive titles, (i.e. Halo) and the XBox Live online service. However, the XBL service, unlike any other service, charges a subscription fee. To compete with the advantages of the PS3, the 360 also asks the user to buy dedicated hardware, (i.e. a first party Microsoft Hard Drive, wireless adapter, etc.) which is more expensive than setting up your own solution, such as relying on a wireless hub and third-party devices–however, this is not endorsed by Microsoft.
Games
There are a lot of games out there, and even though arguably there is a definitive, mainstream title (as of this writing, Call of Duty: Modern Warfare 2), there are plenty of games catering to specific interests. Games also vary in level of content–the majority of mainstream games, mostly T and M-rated titles, tend to be focused around violence.
Here are a few examples of possible titles to look at:
Super Mario Bros. and other first-party Nintendo titles
Nintendo Wii and DS titles. The easiest ones to name are first-party Nintendo titles, which always tend to be family friendly, or T-rated at most. Other than Mario, other notable entries here include the Legend of Zelda, Metroid, Super Smash Bros., etc..
LittleBigPlanet
For PlayStation 3 and PSP. Listed here because it's very family friendly. At its core, it is a simple platforming game which can be played cooperatively with friends, online and offline. One of the most important titles of the PS3, LBP is notable for its cutesy presentation and emphasis on content creation–players can create and share their own levels for others to see.
Rock Band
Multi-platform, available on most consoles by now. Requires, at the very least, a guitar controller to play. A game that initially started with Guitar Hero (major dev team members moved on to create Rock Band), Rock Band is at heart a party game. The objective of the game is to play rock music, and ultimately become a high profile rock band; with the aid of a guitar controller, drums, vocalism, and optionally the assistance of up to three other friends.
Metal Gear Solid
Primarily a Sony title. I just wanted to make a note out of this one. While it is primarily an M rated title, the upcoming Metal Gear Solid: Peace Walker for PSP will be rated T, which is an attempt to reach out to younger players. Metal Gear Solid is primarily a stealth action videogame series, with an emphasis on cinematic narrative and storytelling. (Some gamers complain that the games are more like movies than they are games) Despite the military atmosphere, there is a pacifistic theme underlying within the game, usually commenting on the futility of nuclear deterrence and the effects of the battlefield on individuals.
My favorite game is Metal Gear Solid 3: Snake Eater, but that is a bit old and is on the PS2. However, Metal Gear Solid: Peace Walker is a direct sequel to MGS3, and I'm looking forward to it, perhaps moreso than the PS3′s MGS4. Both games tell the story from the perspective of Big Boss, arguably the central antagonist of the entire Metal Gear series.
Other titles
Off the top of my head are T or M-rated titles, or more complicated, high learning curve games such as IL-2 Sturmovik, so I won't go into great detail on them here.
The server obviously wasn't very successful. There were a lot of problems with my idea.
Garry's Mod, being a commercial game, costs ten dollars. While that may not seem like much to a regular gamer, it's a bit pricey for something that was only going to run for a few weeks.
High learning curve. It might seem really silly to me or anyone who has played an FPS game before, but people who haven't will have a much harder time grasping the basic control scheme before they can come to grips with the GMod Tools.
No incentive to do anything. The MOTD was working, but no one actually read it, or if they did they didn't care. I was pretty much the only one working on the John Freeman statue, and it got deleted by someone somewhere along the way. It's no problem restoring the damage, but at the time it was deleted I didn't see any reason to bring it back anyway.
Server was quite laggy. People actually complained about this while they were logged in. This was because I relied on an existing machine at home. I knew it was a bad idea and I actually tried outsourcing someone to get a server set up, but the system config they had (Linux OS) wasn't really that compatible with Garry's Mod. This was a last resort.
A week ago, a friend introduced me to Minecraft. In all honesty, the capabilities of Minecraft in addition to it being free to play (for now) would've made it a much better option than GMod, had I heard about it sooner.
Screenshots:
Looks like the dedicated server was a bad idea. About four people (other than me) connected to the server so far, and none have actually interacted with the statue in any way.
In other news, a while back one of the social media applications we explored was Chat Roulette, a bizarre application which connects two random strangers via webcam and basic chat, shuffling them along to other random strangers. The locals that can be encountered on Chat Roulette can be rather unscrupulous.
Why bring this up again? The following video is a live, improvised piano performance before an audience in Charlotte, North Carolina, performed in conjunction with Chat Roulette.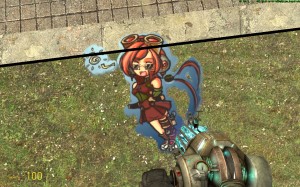 For some reason, my spraypaint never worked offline in GMod in particular. It worked in TF2 though, and for some reason it works online. Odd.
If this post is up, that means that the GMod dedicated server is up and running, finally. It will probably run for a while and close up some time during the summer or if the John Freeman statue completes early, whichever comes first.
To connect, add the following server to your favorites:
velocity7.dyndns.org:27015
Alternatively, just open up the console (tilde key) while running GMod, and type:
connect velocity7.dyndns.org:27015
NOTE: Requires PHX3 and Wiremod. They will NOT provided automatically by the server, because they require an SVN client to properly install.
Wiremod and how to use SVN
PHX3 (Do not download directly, run an SVN checkout in your garrysmod/addons/phx3/ directory
Follow the instructions on the first link for both Wiremod and PHX3.
P.S. Let me add a few extra screens showing what the server currently looks like: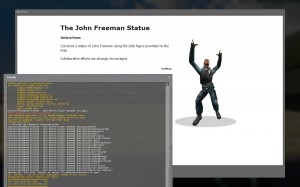 As you can see, I have a working MOTD for anyone who stumbles in without having read this blog, which will probably be 90% of the time.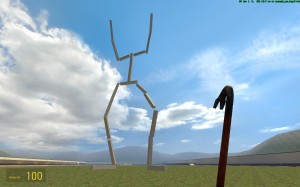 The stick figure.